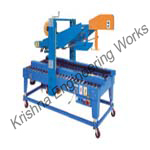 Carton Sealing Machine is available in Semi Auto, Side up Drive, Auto Flap Closer, Carton Erector
Features:
Carton Sealing Machine
Both side compression Rollers.
Top mast with cushion.
Belt driven with universal Bearing.
Regular mode & Memory mode
Tape Width: 48mm – 72mm.
Application:
All Industries for Sealing and Packaging.